You are here
USACH welcomes first international students for 2023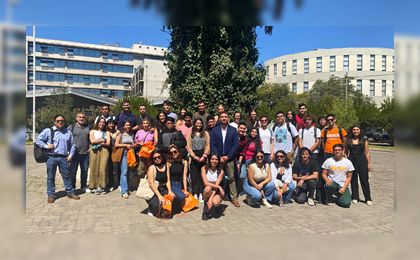 This semester the University of Santiago will have 56 students from 10 countries of America and Europe, who will study undergraduate and graduate programs in all faculties of our campus. With the intention of providing the best experience, Usach International recently offered a welcome and orientation day.
The University of Santiago of Chile begins the first semester of 2023 and with it receives the first international students of the year. They are 56 students from institutions in America and Europe, and for whom Usach International prepared a welcome and orientation day.
The event was designed to resolve doubts, reduce anxiety and provide them with relevant information about their stay at USACH and in Chile. The presentation was in charge of Fernando Olmos Galleguillos, director of Usach International, and Geraldine Durán Zavala, coordinator of the same department.
"The first thing is to give you a big greeting. I would like to tell you that for the University of Santiago it is a great joy that you are here and that you share the experience of studying at this institution. This talk has a very simple purpose: to reduce anxiety and fear. I know that you come with a lot of information and questions that you need to answer, but the mobility experience is designed to be as simple as possible for you," said the director of Usach International, Fernando Olmos Galleguillos, at the beginning of the day.
The presentation included an introduction to the campus and the University, highlighting its centennial tradition, its seal of quality and excellence, as well as its commitment to interculturalism. It also addressed institutional and national regulations, information on public transportation in the city, cultural characteristics, safety measures, among others.
"We are pleased with the arrival of the students, as we know that this exchange semester implies, for them and for the University of Santiago, effort and commitment. For the same reason, we will try to make this experience as satisfactory as possible.  Several of them, in the months of preparation for their mobility, highlighted USACH as a university that can give them much personal and academic growth, and in the same way, as a university we also have much to rescue from their experiences," said Geraldine Durán Zavala, coordinator of Usach International.
The group of incoming students is made up of 56 young people from Germany, Brazil, Colombia, Slovakia, Spain, France, Mexico, Peru and Venezuela, as well as young people from other institutions in Chile. Most of them (40) will study undergraduate programs, while a smaller number will study graduate programs. All the faculties of the Campus will receive at least one (1) exchange student, with the Faculty of Engineering and Faculty of Administration and Economics receiving the most.
"I was already on exchange in Chile during high school and I wanted to return again to broaden my knowledge of the country and its culture, so I decided to come to Santiago and USACH," said Marah Müller, a student from the FH Münster in Germany, adding that "I not only hope to deepen my academic knowledge during this time here, but also my intercultural skills and better understand the economic and social context in Chile". 
María José Ibarra, a student from the Technological Institute of Sonora, Mexico, said that "I chose USACH for my academic exchange because of the size of the university and the years it has been teaching. My expectations are that this will be a semester full of learning about my career and about the culture of Chile".
Finally, from the University of Santiago of Chile and Usach International we reiterate our welcome to all international students who join our university community this first semester 2023. We wish them much success and hope that the exchange experience will boost both their personal and professional development.
News