You are here
Representative of the Amsterdam University of Applied Sciences visited USACH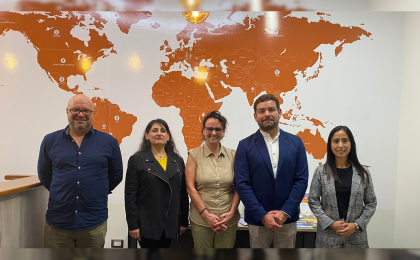 With the aim of strengthening the existing collaborative links between the two universities, Professor Gema Casino visited the University of Santiago to meet with representatives of the FAE and the Usach international.
The University of Santiago of Chile recently received the visit of Gema Casino, Director of International Relations of the Amsterdam University of Applied Sciences (AUAS). The meeting was held at the Faculty of Administration and Economics (FAE) and was aimed at strengthening ties.
The FAE invited the director of Usach International, Fernando Olmos Galleguillos, and the Cooperation Coordinator, Mayerley Pacheco Pinango, to participate in the meeting. During the meeting, the representatives of both institutions discussed ways to strengthen collaboration in the areas of common interest previously identified and on which they are currently working.
In this way, a review and update of the opportunities for improvement in the existing links at the level of teaching, research and linkage with the environment was carried out. Both USACH and AUAS expressed interest in advancing in the challenges faced by students from both countries at the time of exchanges, which for Chileans are usually at the level of paperwork and documentation, and for the Dutch are of a linguistic nature and opportunities to learn and practice Spanish.
Meanwhile, the director of Usach International expressed the interest of the University of Santiago to take part in Erasmus+ projects related to the Amsterdam University of Applied Sciences, as part of the strategy of internationalization and strengthening international cooperation with strategic partners. For their part, AUAS expressed their interest in learning about the courses offered in English to facilitate and promote the application of their students to USACH. Usach International will support actions that contribute to strengthen and expand the collaborative relationship with AUAS.
Finally, it should be noted that Professor Gema Casino is an academic at the Amsterdam School of International Business (AMSIB) and her relationship with the University of Santiago and the FAE is extensive. In 2018, the AUAS Director of International Relations participated in the process that resulted in the obtaining of funds by academics from the School of Management and Economics, which allowed two USACH undergraduate students to carry out academic internships in the Netherlands.
News